A New Tradition: Four Honors College Graduates From One Family — Including Twins Graduating In May — Are Far From Coincidental
April 25, 2019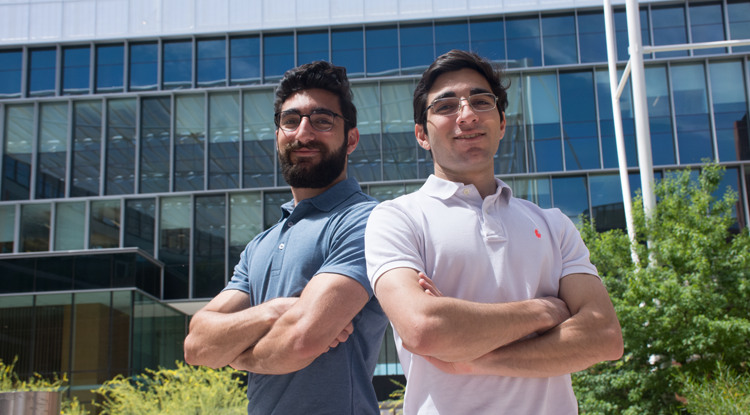 When Dieter and Niels Mohty step forward at the Tucson Convention Center on May 9th, they're not only one of three sets of twins doing so. With older brothers Ralph and Kurt preceding them, the pair of Microbiology and Physiology double-majors has found new ways to build on what's become a family tradition.
Following high school graduation from Brophy College Preparatory in Phoenix, Dieter and Niels diverged in their minors (Spanish and Math) as well as their commentary about the Honors College experience. Anxious to catch them before the next steps in their journeys, HONORS Weekly channeled their observations into three key questions.
HW: What propelled you to be part of the Honors College?
Niels: I was intrigued initially by the Honor's College because of the priority registration for classes, but had learned there was much more opportunity to be had. Through the Honor's College, I found the opportunity to elect for more intensive classwork, which taught me to better adapt my time management skills and resourcefulness.
Dieter: Seeing their (my two older brothers) involvement in the some of the opportunities offered by the Honors College (i.e., publishing a thesis), and how their active involvement helped their future prospects, motivated me to follow suit. So, in a way they paved a path that I would eventually take when I started at the University of Arizona.
 
HW: What insights about life and your professional future have you gained in the College?
Dieter: It is clear that the Honors College has positively shaped some of my career goals in academic medicine, specifically in research. I eventually landed a spot as an undergraduate researcher in Dr. Vanderah's pharmacology lab at the University of Arizona Medical School. My experience working in this lab has been incredible. I work with exceptionally driven people such as my mentor Austen (a current MD PhD student at UACOM) and other undergraduates. I hope that my thesis will be the start of my career in academic medicine.
Niels: The insights I have gained through the College extend past the academic. I have been fortunate enough to work in an immunobiology laboratory for the past two years under the renowned Dr. Janko Nikolich M.D. as I had been urged to seek a laboratory to start and complete my Honor's Thesis. Through this lab, I have learned the basis of scientific literature, how to communicate effectively, and how to present information in front of others. This lab has cultivated a love for problem solving and critical thinking which I will extend into my medical career starting as a medical student this summer.
 
HW: What advice do you want to give to incoming or undergrad Honors students?
Dieter: As simple as it may sound, 'work hard, play hard.' It is very important to establish and maintain a good work ethic but it is also imperative to care for yourself and enjoy your time in college. Also, cultivating a mentality of openness will allow you to leave your comfort zone with ease. On top of this being key for your personal and intellectual growth, it will help you stand out among
your peers.
Niels: To the incoming Honor's students: I urge you to take as many opportunities that the Honor's College offers. College seems like a long haul, but it was only a short 4 years ago that I was in your same position. Learn from our experiences and listen to our collective wisdom; I urge you all to go out of your comfort zones and do extracurriculars that you would have never considered or join clubs that interest you. This organization will definitely help you develop into a more professional and well-rounded person.
And what's ahead for the intrepid duo? Niels took the lead in sharing their plans. "My twin brother and I applied to medical schools this past June. Funnily enough, every program that we interviewed at had offered both of us interviews at one time or another. To our delight, we have been offered acceptances at various programs across the country.
"However, the decision that stood out to us the most was the University of Arizona College of Medicine. They offered us an acceptance at the same time! Going into the application cycle, we had no expectation of continuing our educational journey together. But now there is a very good chance that we will stick together and continue at the UA as medical students in just a few months."