The Power Of Two: Twins Complete Their Honors College Experience Strong With Their Own Views Of Life
April 10, 2019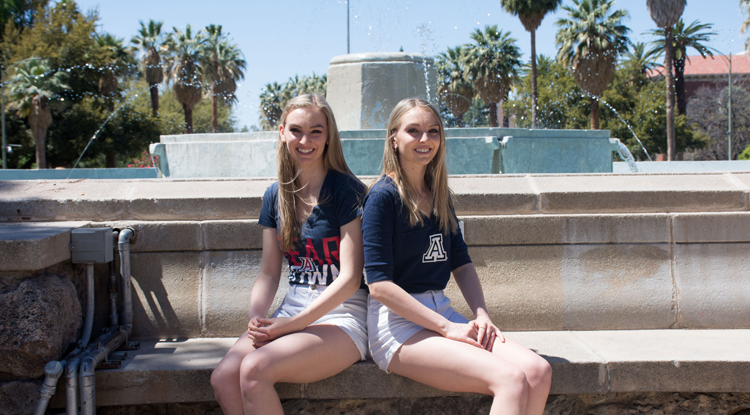 Entering the Honors College is a time both of significant adjustment and unexpected growth. In some cases, friends and family members are waiting on-campus to make the transition easier. In even rarer situations, a student's siblings are part of the process. And, even more infrequently, a twin first-year student turns the University of Arizona into a familiar place from the first day.
Twins Molly Eilish Jepson and sister Regan Elizabeth Jepson comprise one of three sets of twins graduating from the Honors College in coming weeks. Graduates of Thunderbird High School in Phoenix, each pursued a different academic path: Molly that of Nutritional Science (Dietetics in the College of Agriculture and Life Sciences) and Regan a major in Public Health through the Zuckerman College of Public Health.
HONORS WEEKLY found a few minutes with each of them to understand their individual experiences as well as pass along their insights about life in Honors.
1) What propelled you to be part of the Honors College?
Molly:
I wanted to be a part of the Honors College because of the opportunities that it offered for me that I wouldn't necessarily have if I wasn't a part of the Honors College. For example, this year I have had the opportunity to be involved in my own research through completing an Honors thesis, something that most Nutritional Sciences majors don't get a chance to pursue.
Regan:
I have always strived to challenge myself as much as possible, open myself up to new ideas and experiences, and I wanted the opportunity to interact with like minded, extraordinarily driven students who are here because they foresee a future in which they want to play a large role in today's world, wherever they end up.
2) What insights about life and your professional future have you gained in the College?
Molly:
The Honors College has taught me that as I take the path of life, I should always try to take the route that is going to challenge me a little more because I know it will make me a stronger, better qualified professional and member of society who has an understanding that goes beyond what is known and understands what is valuable and meaningful. This path means you can look at something and consider all its perspectives and not assume its value from first glances, but get to know its value by taking the time to understand it at different levels.
Regan:
In the Honor's College, I have learned that your professional future is not set in stone, but that the experiences allow you to explore interests and topics that ultimately will lead you to a professional career you love. Specifically, I found for example, that the Honors Alternative Spring Break Trip to Los Angeles was a huge turning point for me in my education, as it pushed me to pursue public health, a field I had never heard of before then, and a decision that I have valued for my entire undergraduate career, and will continue to value for life.
3) What advice do you want to give to incoming or undergrad Honors students?
Molly:
For incoming Honors students, make friends with other students who can support you and make you laugh even during the hard times; this part is key to having a great college experience and I highly recommend staying in an Honors dorm to make friends with other students who will be going through what you will be going through, too. Also, while it may be obvious to most Honors students, working and studying hard and hands-on experiences are very important parts of being successful as an Honors student.
Regan:
To incoming Honors students and current Honors students, I encourage you to use the professionals, resources, clubs, and educational opportunities around you to pursue your interests while keeping your options and mind open, to make your undergrad a time of exploration, one of personal and professional development, leadership and growth, so you can look back and say you left no stone unturned, and got the most of your time at the U of A in the Honors College.